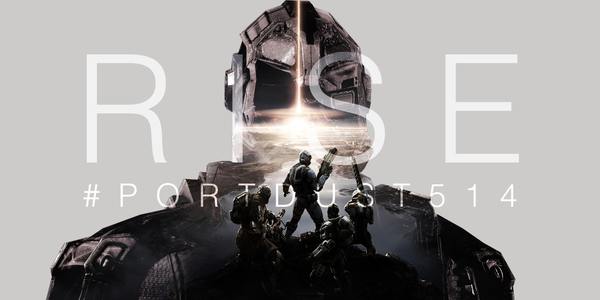 Recently there has been a Twitter campaign, initiated by notorious forum poster Ripley Riley, using the hashtag "#PortDust514". There is a forum post and even a Reddit thread on /r/Eve about it. Both DUST 514 players and EVE Online players have voiced their opinions and concerns about porting DUST 514 off of the PlayStation 3, and moving it to PC.
This image sums up the feeling of EVE players about a potential DUST 514 PC port. Reading through all the tweets and Reddit comments really shows how much EVE players (who are known for being toxic to both DUST mercenaries and other EVE pilots) actually want DUST to come to the PC. One Redditor went as far to say, "We want you home. You deserve a place amongst the stars with us."
Pokey Dravon has also produced several images with the hashtag on them.
I, on behalf of the Biomassed crew, got to sit down with Ripley Riley and ask him some questions about this campaign.
Biomassed: What was your goal with creating #PortDust514?
Ripley Riley: At first I was frustrated with the lack of information coming from CCP about DUST 514's future off the PS3. Then I decided to give them the benefit of a doubt. Maybe they just simply didn't know we wanted news. I started #PortDust514 to communicate clearly and loudly that the DUST 514 playerbase wants to know what is going on.
Biomassed: Do you think the campaign has been effective?
Ripley Riley: Yes, in so many ways. Not only has it effectively motivated the DUST 514 players, but it has successfully reached out to our Eve Online brothers and sisters. That is something I am extremely happy for. They have a more direct line of communication to CCP, I feel.
Biomassed: Did you expect the hashtag to take off like it has?
Ripley Riley: Hell no. I am by no means a social media wizard. I just expected a few people to RT it and maybe some support from CPM2.
Biomassed: A lot of EVE Online players have responded to the "#PortDust514" campaign. Did you expect this at all? What are your thoughts on all their responses?
Ripley Riley: The reputation of the Eve players caused me to be a bit worried. I am pleasantly surprised by the positivity coming from the EVE players. They seem to really want a port and think the DUST 514 players deserve some communication. It's encouraging.
Biomassed: Has CCP responded in any way to this campaign?
Ripley Riley: Not yet. Even if they don't reply directly to me I don't view that as a bad omen. I want them to address the playerbase directly.
Biomassed: Do you think that they will?
Ripley Riley: Nope. I'm not important enough. I just started a hashtag. If I were CCP, I would be reaching out to the community instead.
Various members of CPM2, including Darth-Carbonite GIO, Aeon Amadi, and long time CPM member Dennie Fleetfoot, have all expressed their support for the campaign, and their desire to see DUST ported.
If you want to get in on the action, and support DUST 514 being ported to PC, hop on Twitter, tweet to Hilmar Veigar (@HilmarVeigar) and CCP Rouge (@CCP_Rouge) and tell them that you want the game ported! Be sure to use the hashtag "#PortDust514". You can also go to the forums and the EVE subreddit (all the links are up in the opening paragraph).